When I need a mind-numbing activity to waste a few minutes of my day, rather than doom scrolling Twitter or needlessly refreshing my inbox, I like to hit the "random" button on some of my personal repositories of knowledge. I enjoy the exercise of thinking about where I was when I saved that webpage or liked that song or posted that quote. Here's a quick sample from a recent trip down randomly accessed memory lane.
Random book from my library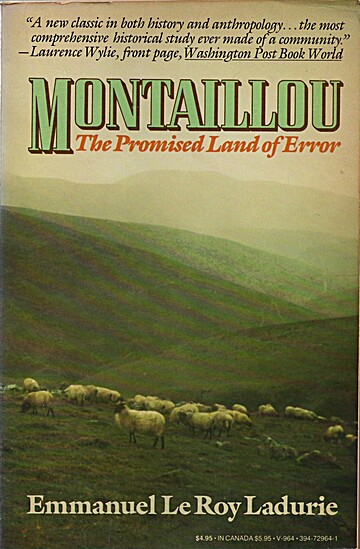 Montaillou : the promised land of error by Emmanuel Le Roy Ladurie.
This is definitely a book I plan to read again. I first encountered it in 2006 while studying medieval literature in grad school. It's a lovely (albeit disturbing) retelling of heresy in a small, French town based on an abundance of textual, "first-hand" knowledge that shows us more about life in rural Europe than it does about religious deviance.
Random bookmark
I saved this YouTube video back in September 2017. Apparently, by that point I was already on the Cal Newport train.
Random blog post
In 2016, I wrote about #LISMentalHealth, my chronic illness, and my decision to seek professional support to help manage my stress, anxiety, and depression.
Random word from the OED
nash, intransitive. To leave in a hurry, quit; to 'dash'.
Random song
I don't remember adding this to my library, but any time a song from this album comes on it makes me smile. Steven was right.